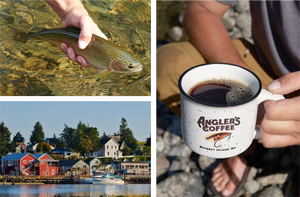 WE ARE ANGLER'S COFFEE COMPANY
The Angler's team are veterans of the coffee industry and we call the Pacific Northwest home. After all this is the birthplace of modern coffee-culture and of course, there's some pretty great fly fishing here too. For more than forty years we've been on the leading edge of coffee. We've led the development of some of the most advanced coffee and espresso making technology in the world and have worked on all levels of bringing coffee to market including buying, roasting, blending and tasting. You might say coffee is who we are, and it is - when we're not on the river fly fishing of course!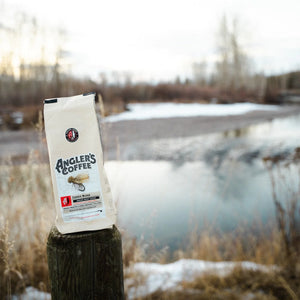 WE LOVE FUELING YOUR NEXT CAST
It's an honor really. We know that a proper fly fishing day cannot begin without that first hit of freshly roasted coffee to invigorate the spirit and hone the senses. Do it right and it might even put you on level playing field with the fish! We love knowing our coffee is fueling another fly fisherman's day!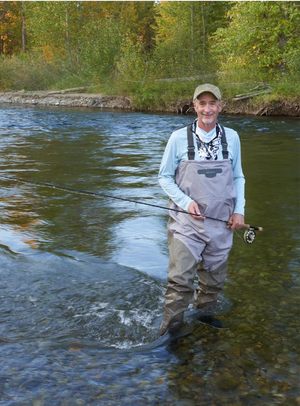 ABOUT THE FOUNDER
For Angler's Coffee founder Joe Monaghan, life has always been about seeking perfection—but not because he expects to attain it, rather, the joy is in the journey toward it. To Joe that makes fly fishing and coffee his perfect passions.
ROASTING COFFEE BEFORE COFFEE WAS COOL
Fifty years ago, Monaghan was a teenager spending his summers helping friends at their ice cream and coffee shop, the Wet Whisker on Whidbey Island, Washington (what would later become the home of Angler's Coffee Company). At the time, few people in the United States had seen a coffee roaster or experienced freshly roasted coffee beans but the Wet Whisker had a commercial roaster and much like a Brookie rises to a Woolly Bugger, Joe became hooked on coffee! As its reputation grew the coffee shop (with Monaghan in tow) moved to the mainland and became Seattle's Best Coffee. From here SBC turned its focus exclusively to coffee roasting. That same year Starbucks also launched their first location in Seattle and as both companies expanded what would become known as the 'Coffee Craze" had begun.
WORK = LOVE OF COFFEE
Joe used what he'd learned as SBC's head coffee roaster to begin his decades-long career in coffee. This culminated with his instrumental role in bringing stateside the legendarily, elite Italian brand many Americans have now come to associate with commercial coffeehouse espresso machines: La Marzocco.

As the president of La Marzocco Joe expanded the companies position in the marketplace and in the following years he completely retooled La Marzocco's manufacturing capabilities, lead the companies many groundbreaking technology initiatives and grew the brand into the unrivaled international powerhouse it is today. This depth and breadth of experience Monaghan says, "allows me to be deeply entrenched in the coffee business at so many different levels with all the best people in the industry. And also, I have never lost my love for coffee."
BACK TO THE FUTURE
Joe has never strayed far from his roots, no matter how far afield the coffee business has taken him. In 2018 Monaghan came full circle to "retire" with his family atop Whidbey Island, Washington, the place of his coffee awakening all those years ago.

One of the first things Joe did upon moving to the island was to install a commercial coffee roastery. Here he continues innovate and create, working on new roasts, new blends, with unique and unusual beans, striving on a daily basis to push his coffee just a little closer to perfection. Some of our best roasts had their start here in the roastery.

On Whidbey he is also just one cup of hot coffee away from his other passion, one of his favorite fly fishing spots in the world, a beautiful little lake full of nice, big trout. And when he wants a change of scenery from the lake he heads to the beach and fishes the salt water of the Salish Sea.

Monaghan's ties to fly fishing start in the Bitterroot Valley of Montana. Every summer, his dad would take him fishing there. Decades later, at the height of Monaghan's coffee business, he was fly fishing all over the world—and his tech might have modernized just a bit over his dad's unfailing bamboo rod.
Coffee and fishing began to merge in Monaghan's mind. "I would find myself thinking about fishing when I was doing business—and thinking business when I was fishing," he said. Both are an endless pursuit of perfection through art and science. With subtle changes, both the master roaster and the expert fly fisher can experience unimaginable success or disappointing disaster.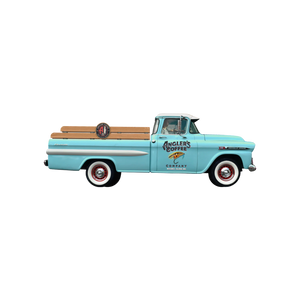 Our Motto
At the beginning of the day for Joe Monaghan, both coffee and fly fishing start with possibility: the possibility of the better cup and tight lines.

Shop Now